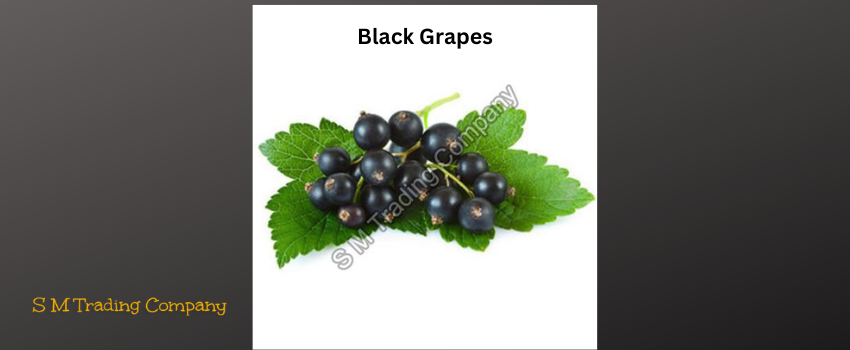 Black grapes are small, sweet, tangy fruits that are quite famous for their velvety colour. Their unique colour comes from their high concentration of anthocyanins. This compound is an antioxidant which is responsible for colour and health benefits. Across the world, grapes are most popularly used for making wines. However, this juicy fruit has also added several uses to its crowning glory. The dark purple colour of black grapes makes them fun to eat.
Bring The Bright Color And Taste to Your Snacks with Black Grapes
Now you can make your food appealing by using black grapes in a variety of dishes.
As a fruit or in salads black.
Make jellies, sauces, jams, and desserts.
Prepare wine, Juice, cocktail, and even smoothies.
Frozen yoghourt or raita.
You cannot miss the chance of gorging on black grapes after knowing these health benefits-
-The presence of resveratrol in black grapes improves insulin sensitivity. This results in enhancing your body's ability to use glucose, thereby managing blood sugar levels.
-Polyphenols, an antioxidant compound, help in fighting free radicals that may cause a heart attack. These compounds also help in treating hypertension and preventing cardiac problems.
-Resveratol in black grapes improves mood dysfunction and prevents age-related memory loss. The contents of riboflavin are also beneficial for people with migraines.
-Carotenoids like lutein and zeaxanthin are known to reduce the risk of age-related eyesight issues.
-Antioxidants in black grapes offer protection against UV and reduce sunburn, hyperpigmentation, and acne.
How to Pick the Best Black Grapes?
While buying the black grapes you must hold the bund by its stem and shake them. This is the best way to ensure that you are buying fresh black grapes. If you notice any of the grapes falling from the stem, it means they have been stored for a long time and should not be eaten.
Also, you just avoid grapes with soft or wrinkled skin or stems that have turned brown or brittle. This is probably a sign that the grapes are freezing or drying.
Grapes are one of the top five fruit crops in India. Nashik in Maharashtra is known as the grape capital of India as 80% of the total production comes from this district. More than 50% of the total black grapes production is exported to other nations. The reason behind this is its variety of uses and popularity among people of all generations. A leading black grapes exporter ensures to supply premium quality black grapes to their customers across the globe.
Here are some of the reasons that make black grapes suppliers Maharashtra stand tall in the market-
-They have a team of quality experts who handpick every piece of black grapes so that the consumers can get the best.
-They have a spacious warehouse facility to ensure that fruits are stored in hygienic conditions.
-They have a strong logistics team to ensure timely delivery of all the consignments to desired destinations.
-They offer easy payment options for online and offline transactions to their customers.
-They offer top-quality juicy black grapes at competitive prices prevailing in the market.
Conclusion
Thus, choosing the best black grapes suppliers Maharashtra ensures you get a burst of sweetness and goodness. Grab your dose of nutrients with black grapes and keep yourself healthy.