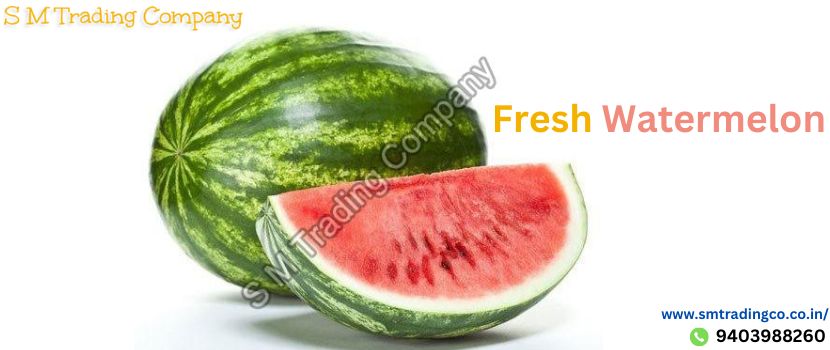 Fresh Watermelon is a delicious and low-calorie fruit. Watermelons, like cantaloupe, honeydew, and cucumber, are members of the Cucurbitaceae family. Watermelon is available in five varieties: seeded, seedless, small, yellow, and orange. Search for Fresh Watermelon Suppliers In India, as India has the best quality fresh watermelons.
Benefits
Following are the benefits of including Fresh Watermelon in your diet:
●
Helps in hydrating the body
Watermelon contains around 90% water, making it ideal for staying hydrated in the heat. Watermelon is a fruit antioxidant rich.
●
Nutrient-dense and high in beneficial plant chemicals
Watermelon is rich in minerals such as potassium, magnesium, and vitamins A and C. Watermelon is also high in citrulline, an amino acid that may increase athletic performance.
●

Anticancer properties are possible

.
Watermelon is more than simply a refreshing summer treat. Did you know it includes a number of plant chemicals that have anticancer properties? Lycopene, a potent antioxidant present in watermelon, has been associated with a decreased risk of some malignancies, including prostate and colorectal cancers. This is because lycopene lowers blood levels of insulin-like growth factor (IGF), a hormone that promotes cell proliferation and can eventually lead to cancer. Furthermore, cucurbitacin E in watermelon may inhibit tumor growth by increasing cancer cell autophagy, which is the process by which damaged cells are eliminated from the body. So, why not incorporate watermelon into your diet on a regular basis to promote good health? Keep in mind that prevention is vital, and watermelon might be the refreshing remedy.
●
Improves cardiac health
Watermelon consumption can be advantageous to heart health. Heart disease is a primary cause of mortality worldwide, but you may minimize your risk of heart attack and stroke by eating healthful meals. Watermelon lycopene has been demonstrated in studies to help decrease blood pressure and cholesterol. It also aids in the prevention of oxidative damage caused by elevated cholesterol levels. Citrulline, an amino acid present in watermelon, can boost nitric oxide levels in the body. This causes blood arteries to dilate and lowers blood pressure. Watermelon contains magnesium, potassium, and vitamins A, B6, and C. All of these nutrients are necessary for sustaining good cardiac function. Including watermelon in your diet might be a tasty approach to safeguard your heart health.
●
Skin
Vitamin C may also help to maintain healthy skin by shielding it from the effects of aging. Our skin naturally loses suppleness and firmness as we age. However, studies have shown that vitamin C may help to slow this process by reducing free radical damage. So, if you want to improve your health and support your body's natural functions, consider increasing your intake of vitamin C-rich foods. Watermelon is an excellent choice since it is sweet, refreshing, and high in nutrients.
●
Eating watermelon helps in digestion
Watermelon consists of a lot of water and less fiber, both of which are important for digestion. Fiber helps in keeping the intestines regular, while water helps in waste pass more easily through the digestive tract.