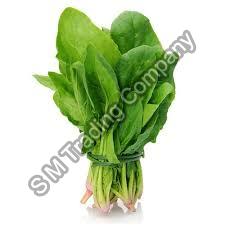 Spinach, also known as Palak, is a hot season green leafy vegetable which belongs to the amaranth family. It is a widely grown crop across India and major producing states are Andhra Pradesh, Tamil Nadu, West Bengal and Gujarat. It is easily available in the market at economical prices, quite easy to prepare and can be used in several flavoursome ways. It is one of the superstar vegetables which is highly beneficial for a perfect balanced diet. It can be consumed in raw as well as cooked form.
Fresh spinach is an extremely rich source of essential vitamins like Vitamin A, Vitamin C, Vitamin B6, B9, Vitamin E and Vitamin K1. In addition to that, it contains various other minerals like potassium, magnesium, iron, beta-carotene, folic acid and calcium. It is also a great source of significant plant compounds such as quercetin, kaempferol, nitrates lutein, and zeaxanthin.
Including this dark green leafy vegetable in your diet can offer you numerous health benefits. Spinach may not be a favourite amongst the general public but preparing it the right way can simply make your meals a lot more enjoyable. Spinach is highly demanded by the restaurants to make some delightful recipes that will surely make your mouth water are Spinach soup, Spinach with lentils, Palak Paneer, Palak Paratha, Spinach Salad, Spinach & cheese sandwich, Spinach & corn fritters and many more. One should try these lip smacking recipes to truly experience a prominent change in health due to the benefits of this nutrient-rich leafy vegetable. Some of them are as follows:
Promotes Bone Health: Due to the presence of calcium content in spinach, it helps in maintaining and strengthening bones. Also, it is a good source of Vitamin K which helps in better absorption of calcium.
Good for eyes: With antioxidants like zeaxanthin and lutein, spinach is extremely good for your eyesight. It keeps your eyes away from cataract, macular degeneration and other similar problems caused by ageing.
Regulates Blood Pressure: Spinach contains vitamin C which helps in reducing hypertension (high blood pressure) which is a major cause for heart diseases and strokes.
Proper functioning of brain: Contents of Vitamin K helps in keeping the nervous system healthy and smooth functioning of brain during your old age.
Prevents Anaemia: It has a high source of iron content which helps in preventing the risk of anaemia especially for menstruating women.
Glowing Skin: Vital nutrients like Vitamin C and E which are highly good for the health of a skin are present in spinach. It helps in improving the overall skin texture.
Helps in weight loss: Spinach is low in calorie, makes you full which aids in weight loss. It is high in fibre content which helps in good digestion and prevents constipation.
You should look for some of the best spinach suppliers India that will help in getting the fresh spinach daily supply so that you do not have to compromise in any way on beginning your journey towards a healthy life.
Following are some of the crucial aspects that should be taken care by the spinach suppliers to stand tall in the fruit and vegetable industry worldwide.
They should have a great infrastructure built with the latest technology and top quality machines to ensure quality controls.
They should have a team of quality experts who handpick every piece of vegetable so that the consumers can relish their original taste while enjoying their health benefits too.
They should adopt a mechanical process for cleaning the vegetables to ensure products have no germs, bacteria or other harmful chemicals which may cause trouble to the body.
They should aim to serve their customers pesticide-free and chemical-free vegetables that are totally safe for human consumption.
They should have a reputed logistics team to ensure timely delivery of all the consignments to desired destinations.
They should offer easy payment options in order to promote ease of doing business.
They should offer fresh spinach in the market at competitive prices.
Thus, it can be concluded that Spinach is one such vegetable that is not only tasty but is healthy and nutritious in many aspects. One should carefully choose a spinach supplier to get the top-class superior quality spinach that is pure and cultivated using natural methods.